Back To School Excalibur Dehydrator Giveaway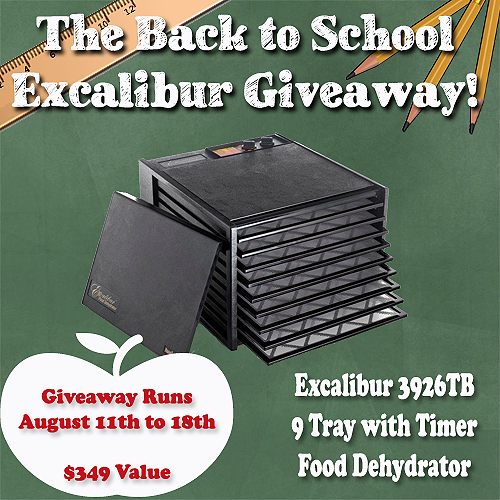 If you read my blog or any of the stuff I write for TheSurvivalMom.com you know that I'm all about storing food for hard times. Canning and Freezing are a great way to do this but there is another way that isn't as widely used, or maybe it's just not talked about as much.
Dehydrating is a great option because if you are looking for portability, having something that is light weight is so handy. Besides the buggin-out possibilities, Dehydrated foods are great for on-the-go snacking. School lunches, back-pack snacks, soccer games etc are all better with fruit leather or jerky.
I've used several different dehydrators over the years and this ONE is the BEST! My problem is that when I want to use it, I have to borrow it from my mom. She's good to let me adopt it for a week or so when I'm drying stuff but I'd LOVE to have one of my own. So jumped at the chance to join a giveaway with some amazing preparedness blogging buddies.
The Giveaway is for the 9-tray Excalibur with timer. This retails for almost $350 bucks. (Hence the reason I don't have my own yet 😉 ) I'd love for you to have one in your home. Enter away!
Here are the bloggers involved in this fabulous giveaway:
1. Food Storage Moms
2. Imperfectly Happy
3. Whole New Mom
4. Montana Homesteader
5. I Get Ready
6. Survival For Blondes
7. Prepared-Housewives
8. Ever Growing Farm
9. Home ready Home
10. Sharing Lifes Abundance
11. PreparednessMama
12. Timber Creek Farm
13. Meliss K. Norris
14. Are We Crazy Or What?
15. Fabulous Farm Girl
16. The Backyard Pioneer
17. Memories By The Mile
18. Hostile Hare
19. That's My Home
20. Common Sense Homesteading
21. Food Storage and Survival
22. Kneaded Creations
This giveaway is open to any resident 18 years of age or older living in the 48 Continental US States. The giveaway starts on Aug. 11th at 5:00 am (MDT). We will choose a winner at the end of the giveaway on Aug. 18th, 2014 at 5:00 pm (MDT). We will email the winner that is chosen and they will have 24 hours to respond to the email sent to them. If after 24 hours we do not hear from said winner, another winner will be chosen. Thanks again for entering and good luck to all!