Kelly Kettle Group Giveaway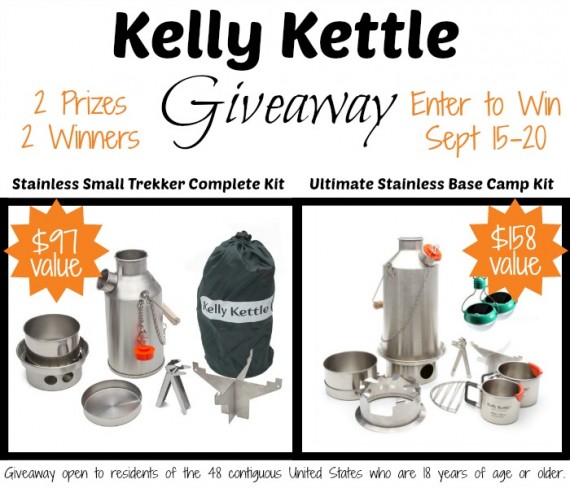 Who would love to win a Kelly Kettle in our group giveaway? Tell me that you know that September is National Preparedness Month? I'm sure you do by now.
A large group of my blogging buddies is trying to show the world what's amazing products are available to use in an unforeseen disaster or emergency. We are so thankful to Glen at KellyKettleUSA for sponsoring our giveaway today! If you are interested in seeing how one of these Kelly Kettle kits work, we've got you covered: KellyKettlePost. There is also a YouTube video on the Kelly Kettle website that will show you the different sizes they have available. These are fantastic because you do not have to store fuel. You can use whatever is available; dry leaves, twigs or pinecones.
Basically you put a small piece of newspaper or scraps of tinder in the bottom and you light it with just a match or flint. You can add more pine cones, twigs and other natural fuel as needed to keep the fire going. Water boils in minutes.
In this Kelly Kettle giveaway we will have two winners. One will win the stove kit on the left, the second winner will win the stove kit on the right in the graphic shown above. Good luck everyone!
Bloggers Involved In This Giveaway:
1. Food Storage Moms
2. Frugality Gal
3. Survival At Home
4. Home Ready Home
5. Fabulous Farm Girl
6. Ever Growing Farm
7. Sharing Lifes Abundance
8. Food Storage and Survival
9. I Get Ready
10. Timber Creek Farm
11. Kneaded Creations
12. Blue Yonder Urban Farms
13. Simply Living Simply
14. Your Own Home Store
15. Prepared-Housewives
16. PreparednessMama
17. Survival For Blondes
18. Common Sense Homesteading
19. Trayer Wilderness
20. Melissa K. Norris
21. Memories By The Mile
22. The Busy B Homemaker
23. The Backyard Pioneer
24. The Prepared Ninja
25. Whole New Mom
26. Imperfectly Happy
27. Lil' Suburban Homestead
National Emergency Preparedness Month
This Kelly Kettle Giveaway is open to any resident who is 18 years of age or older who lives in one of the 48 US Contiguous States. This giveaway starts on Monday, Sept. 15th at 5:00 am (MDT) and ends on Saturday, Sept. 20th at 5:00 pm (MDT). The winner will be notified by email and will have 24 hours to respond. If we do not hear back from said winner in the designated time period of 24 hours we will choose another winner and they will have 24 hours to respond from the time the notification email is sent. Please check your SPAM email folders. Good luck to everyone! Let's be prepared for the unexpected!
a Rafflecopter giveaway