National Emergency Preparedness Month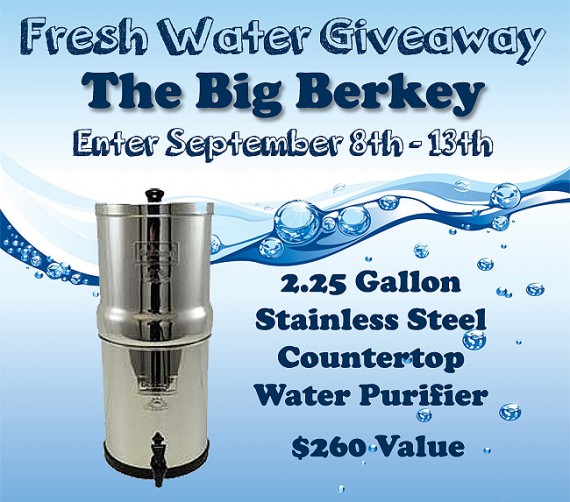 I'm sure you've heard that September is National Emergency Preparedness Month? Did you know that the whole city of Toledo, Ohio was not able to use their culinary water for quite some time. They could not even boil it to make it safe because of the toxic nature of the water. This is one more reason we need to tell the world about National Emergency Preparedness Month. Wow, this makes me wish every family in the world could have some type of system to purify their water.
This giveaway is sponsored by CampingSurvival.com They have a fantastic site with all kinds of preparedness supplies. Head on over and check them out.
We are extremely grateful that Tom at Camping Survival believes in the Big Berkey Water Purifier system as much as we do! Thanks again Tom for showing the world what is needed to purify our water everyday, or in an unforeseen disaster. We thank them for helping the world celebrate National Emergency Preparedness Month. Please enter this giveaway and you will have a chance to win one of these Big Berkey Water Purifiers! Good luck to everyone, and please visit the other bloggers listed below.
Here are my blogging colleagues involved in this giveaway:
1. Food Storage Moms
2. Imperfectly Happy
3. Frugality Gal
4. Survival For Blondes
5. Fabulous Farm Girl
6. Home Ready Home
7. Prepared-Housewives
8. I Get Ready
9. Kneaded Creations
10. Timber Creek Farm
11. Ever Growing Farm
12. Sharing Lifes Abundance
13. Your Own Home Store
14. Blue Yonder Urban Farms
15. The Prepared Ninja
16. Survival at Home
17. The Backyard Pioneer
18. Food Storage and Survival
19. The Busy B Homemaker
20. Simply Living Simply
21. Memories By The Mile
22. Common Sense Homesteading
23. Trayer Wilderness
24. Whole New Mom
This Big Berkey Water Purifier Goveaway is open to any resident who is 18 years of age or older who lives in one of the 48 US Contiguous States. This giveaway starts on Monday, Sept. 8th at 5:00 am (MDT) and ends on Saturday, Sept. 13th at 5:00 pm (MDT). The winner will be notified by email and will have 24 hours to respond. If we do not hear back from said winner in the designated time period of 24 hours we will choose another winner and they will have 24 hours to respond from the time the notification email is sent. Please check your SPAM email folders. Good luck to everyone! Let's be prepared for the unexpected!
a Rafflecopter giveaway