Unless you've been in a cave for the last little bit you've probably heard that September is National Preparedness Month. The kids are back in school, the routines are getting established and hopefully we have a little time to concentrate on our Preparedness efforts. Things like canning our summer harvest, Getting the vehicles ready for winter, and Rotating supplies in our Emergency kits are all things that would be great to work on this month.
In an effort to help you along with some of the stuff of preparedness, I'll be participating in some AMAZING Giveaways this month. Each week in September I'll post a new giveaway and I'd LOVE for one of my readers to win!
The first Giveaway is for an Amazing All-American Sun Oven package. See the details below for all the info.
All American Sun Oven Giveaway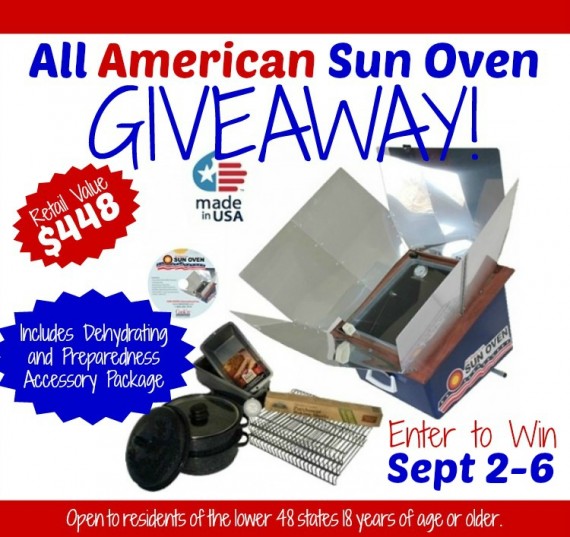 As I mentioned above, September is National Emergency Preparedness Month. It is sponsored by the Federal Emergency Management Agency (FEMA), within the Department of Homeland Security. Americans are encouraged to take the necessary steps to prepare for any emergencies in their homes, businesses, schools, churches, neighborhoods and communities. We need emergency planning to get back to business after a terrorist attack, a tornado, flood, landslide, fire, etc. We need to plan before the disaster strikes us unexpectedly. Have a plan and talk about the plan with family, co-workers and neighbors. If we put some plans into action before we need them we will be better prepared for the unexpected.
The other super cool bloggers involved in this giveaway are:
Food Storage Moms
I Get Ready
Survival At Home
Frugality Gal
Sharing Lifes Abundance
Trayer Wilderness
The Busy B Homemaker
The Prepared Ninja
Kneaded Creations
The Backyard Pioneer
Memories By The Mile
Survival For Blondes
Timber Creek Farm
Home Ready Home
Common Sense Homesteading
Fabulous Farm Girl
Ever Growing Farm
Prepared-Housewives
Lil' Suburban Homestead
Food Storage and Survival
Blue Yonder Urban Farms
Simply Living Simply
Whole New Mom
This All American Sun Oven Giveaway is open to any resident who is 18 years of age or older who lives in one of the 48 US Contiguous States. This giveaway starts on Tuesday, Sept. 2nd at 5:00 am (MDT) and ends on Saturday, Sept. 6th at 5:00 pm (MDT). The winner will be notified by email and will have 24 hours to respond. If we do not hear back from said winner in the time designated time period of 24 hours we will choose another winner and they will have 24 hours to respond from the time the notification email is sent. Please check your SPAM email folders. Good luck to everyone! Let's be prepared for the unexpected!
September is National Emergency Preparedness Month
a Rafflecopter giveaway