Thermal Cooker Nitty Gritty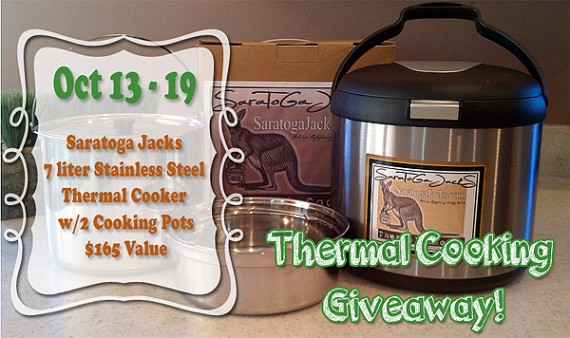 UPDATE:
We had a terrific response to the contest for this Thermal cooker and one lucky person took it home. Now don't be sad if you didn't win because you can still reap the benefits of this Saratoga Jacks 7Liter Thermal Cooker
.   You can get this one and a smaller version on Amazon.
This Saratoga Jacks Thermal Cooker works very much like a slow cooker. It comes with two stainless steel pans with one lid that fits right inside the thermal cooker. You can use this for either hot foods or cold foods. Just a note, frozen meat or frozen foods will not work in this, just so you know. The meat must be totally thawed.
The principle is using retained heat to continue the cooking that you started on the stove. That way you can conserve fuel, that's especially important during a crisis when your fuel supplies might be limited. Here's how it works:
Bring To A Full Boil
The first thing you do when you decide what you are going to make is decide if you will use one or both of the inside pans.
Let's say you are making soup.
First, you brown the meat
Then add the broth and vegetables
Bring it to a full rolling boil. (make sure the liquid in the cooker is within one inch of the top. If you use both pans you will add enough liquid to be level with the bottom of the upper pan.)
In order for this thermal cooker to work it must be full.
Boil Four Minutes
Next, boil the liquid, vegetables and meat for four full minutes.
At the end of four minutes, quickly put the lid on and set the pan with the lid inside the thermal cooker.
Put the thermal cooker on the counter top or in your car.
These work great for ballgames, sporting events, family reunions or everyday meals. It uses zero electricity after the four minutes of boiling. You can "slow-cook" your meal for 5-6 hours while on the kitchen counter, in your car or on vacation trips.
For another Fantastic reason to own one of these beauties, click here
Use It To Keep Salads Cold
Another awesome feature about a thermal cooker is that it will keep foods cold for four to six hours. It works like a cooler, just prepare your salad the night before you need it. Place the salad inside the stainless steel pan with the lid. Place the pan with the lid in your refrigerator overnight. I would leave the liquid salad dressing off or the salad will be soggy. In the morning, quickly put the pan with the lid inside the thermal cooker. Now it is a refrigerator/cooler.
Saratoga Jacks Thermal Cooker (great ideas, recipes and so much information)